The facilities of Les Peupliers campsite in southern Ardèche
piscine camping 3 étoiles Les Peupliers
Les Peupliers campsite has a set of facilities worthy of a three-star campsite, whether dedicated to leisure (swimming pool, sports and games playgrounds) or to your comfort (restaurant room, plancha area, sanitary facilities, motorhome terminals): these facilities are at your disposal!
Feel like cooling off in the campsite pool?
The 3-star Les Peupliers campsite is equipped with a large 20 * 10 m swimming pool as well as a separate paddling pool for children. Access is granted only to the campsite customers. You will enjoy wide beaches for your relaxation, in a natural wooded setting, after your visit to Vogüé!
What sports and games can you play on the campsite?
The campsite has a large area of grass which allows everyone to practice multiple sports freely, and ... to make new friends! It is also used for sports events. This recreation area includes a soccer field, a basketball court, and a volleyball court. Ping-pong tables are also available ... When there is no organized tournament! We can lend you rackets and balls, just ask at the bar.
The campsite equipment would not be complete without the sacrosanct petanque field, an institution in southern Ardèche; very close to the snack-bar area, it is even lit in the evening!
Finally, the little ones can have fun, under the supervision of their parents, in the children's play area specially reserved for them. There is something for everyone at 3-star Les Peupliers campsite!
Can we access a sheltered room at the campsite?
Next to the campsite snack bar, you will find a sheltered room used for certain activities. It is also at your disposal to have fun with the games that we can lend you. It also becomes a gathering or catering place for groups that we can accommodate excluding the July-August period (contact us about this).
Want to grill in the campsite?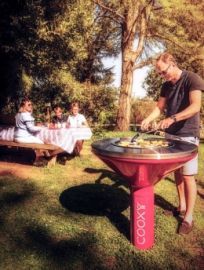 For your safety, open fires (including charcoal barbecues) are strictly prohibited throughout the campsite due to the risk of fires. We can rent gas barbecues if you are not equipped, or, for even more conviviality with family or friends, we provide you with a free plancha area. And because tradition and love for nature do not exclude modernity, at Les Peupliers 3-star campsite, our Cooxy electric plancha is fully controlled by smartphone, ensuring maximum safety for its use. Do not hesitate to discover this new user-friendly equipment!
What is the campsite sanitary equipment?
Because we know that sanitary facilities are an essential equipment for the comfort of the camper, you will have access to a large central sanitary facility, very spacious, with the equipment that one would expect from a three-star campsite (showers, toilets, sinks, dishwashing sinks, laundry bins, etc.). Hot showers are unlimited, and a nursery area is available. Note that a sanitary facilities room is specially fitted out for people with reduced mobility. You will also find washing machines and a dryer (tokens to be collected at the reception of the campsite), and even a shower for our 4-legged friends!
2 additional sanitary facilities, for urgent needs, are located next to the swimming pool and at the edge of the sports grounds.
We are particularly vigilant about proper behavior in these places; so, if you notice any improper attitude, do not hesitate to let us know!
Does the campsite accommodate motorhomes?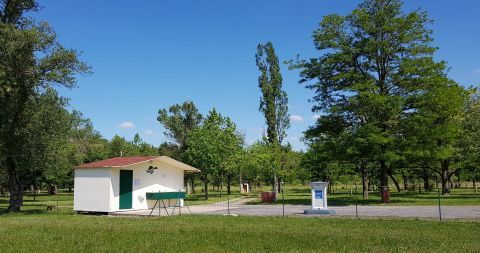 Motorhomes are welcome at the 3-star Les Peupliers campsite, with access to our pitches, shaded or not. All of the pitches are located in a relatively flat area. Campers have a service terminal in a dedicated area for their motorhome